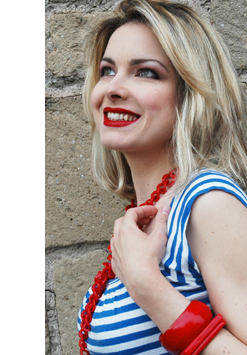 Barbara Palladino is a Stylist and fashion journalist. She works for advertising campaigns, editorials, videoclips. She is based in Italy, travelling worldwide according to the assignments.
She began working for Gattinoni, Italian Haute Couture Maison, and "Oltremoda", one of the most popular Italian tv shows about fashion. She spent many years working for several Italian magazines and she has been a regular contributor for International publishers such as Hearst Magazines and Condè Nast (Cosmopolitan, Vanityfair.it, Style.it). She works for fashion magazines all over the world (GQ/Italy, Bund/China, A&E and Velvet Magazine/United Arab Emirates, Tantalum Magazine and Jimon Magazine/USA… among many others).
Among her works, there are cover stories for many magazines, such as L'Officiel Hellas and campaigns for several  brands: Chicco, Adidas, Rai News 24, Enel X,  Esso International petrol company (ExxonMobil), Jacobs Kronung and many others. Barbara styled photographs to be distributed by Corbis Corporation.
One of the pictures she styled, was shortlisted at the Sony World Photography Awards for the Fashion category. One of Barbara's works won the Nikon Talent Photo Contest (Fashion and Glamour category) presented and exhibited during the International contemporary art fair "Artissima", held in Turin, Italy. Her work was selected between more than 30.000 images from all around the world.
In recent years, Barbara worked as fashion consultant for several companies, such as Haikure, List Fashion Group and White Gallery, the biggest Italian Lifestyle Luxury Store, based in Rome. She was responsible for all the fashion events and external relations, and all the special projects related to fashion shootings, Tv shows and commercials realized in the Store.
________________________________________________________________________________________________________________________
CREDITS:
Photographers:
Camilla Camaglia
Robert Wyatt
Eolo Perfido
Susi Belianska
Stefan Jellheden
Justyna Pawlowska
Gianluca Mosti
Michele Ercolani
Alessio Migliardi
Mario Caponi
Francesco Ormando
Erica Fava
Ilaria Licci
Emanuele Menduni
Make-up & hair stylists:
Einat Dan
Valeria Orlando
Lorena Leonardis
Maria Oldenstedt
Claudio Ferri
Silvia Sadecka
Marcela Bantea
Federico Faragalli
Daniele Mitra
Simona Marra
Americo Leonardi
Xenia Wilson
Nina Labus
Mauro Santurro
Simona Re
Giovanna Antonia Stasi
Brands:
Karl Lagerfeld
Tommy Hilfiger
Krizia
Gucci
Francesco Scognamiglio
Cesare Paciotti
Parah
La Perla
Elisabetta Franchi
Celyn B.
Gattinoni Couture
Rocco Barocco
Raffaella Curiel
Maria Grazia Severi
H&M
Reebok
Accessorize
Fornarina
Yamamay
O'Neill
Zara
Bershka
Pull & Bear
Wesc
Eastpak
Fenchurch
Quiksilver
Firetrap
Via Uno
United Colors of Benetton
Manoush
Sisley
Killah
Pretty Ballerinas
Pompea
Guru
Loreak Mendian
Carpisa
FIAT
Mint Siren by Josefine Wing
Luciano Barachini
Camomilla Italia
Relish
Trendi Bijoux
Deichmann
Pepy&Menta Luxury
El Vaquero
Luigi Borbone
Chiara Aversano
Kienzle
Lascivious
Misis
Traffic people
Lk Design by aibijoux.it
A&C
Bunka Lab
Jais
Trendi Bijoux
Art & Kraft
Jessica Simpson Collection
InVitro Lab
Ewiut
Rossella Carrara
Bershka
Stradivarius
Skullcandy
Fidelity
Korus
Oysho
Paris Hilton Clothing Line
Manitobah
Ruby Brown
Trendi Bijoux
Naughty Dog
Traffic People
SIGG
Tremp
Taratata Bijoux
Castel Plast Fashion
Korus Bijoux
Bon Ton Girl
Spy Optic
Taratata
Pups
Kangol
Komono
Dellera
Franco Panini Scuola
Aurora Potenti
Falsoo
Miki Ninn
Ottica Avanzi